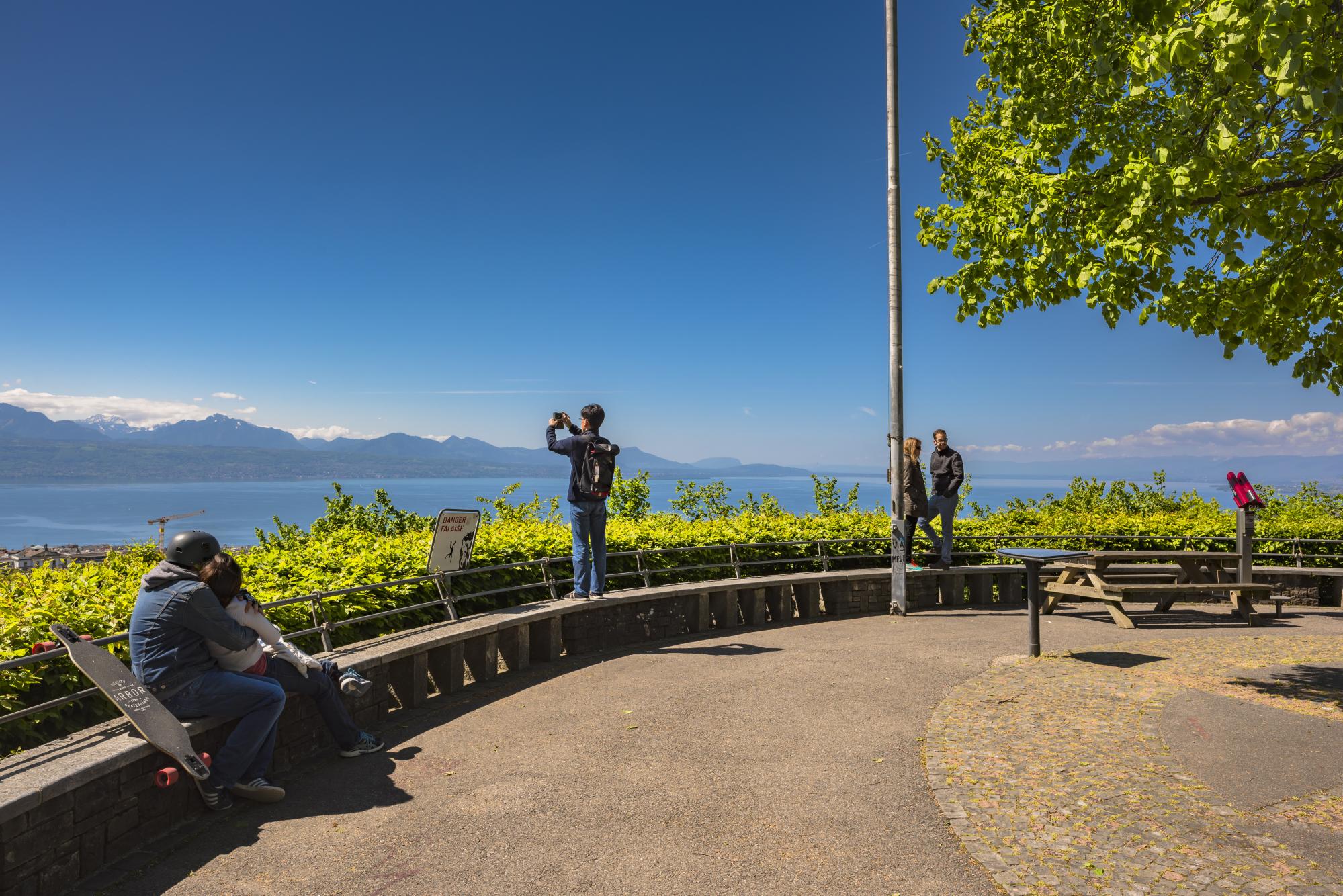 Set on a hillside facing Lake Geneva and the mountains, Lausanne offers walkers a series of extensive panoramic views. This downhill stroll allows you to discover the 10 most beautiful viewing points, offering so many different perspectives from which to appreciate the city and its surroundings.
Depuis le sommet de cette tour haute de 35 mètres et construite en 2003, la vue à 360° s'ouvre sur plusieurs horizons : on y découvre l'agglomération lausannoise, le lac Léman et les trois régions géographiques de la Suisse, les Alpes, le Jura et le Plateau. Cette tour a été bâtie avec du bois, principalement du douglas, provenant des forêts de la Commune. Un exemple parmi d'autres qui fait de Lausanne une cité adepte du développement durable.
Au pied de la tour, continuez par la suite de l'allée forestière goudronnée. Au bout de celle-ci, prenez à gauche, puis descendez à droite. En bas de la descente, traversez la route au passage piéton au niveau d'un arrêt de bus, puis prenez le chemin qui passe un peu plus loin le long d'une maison à la façade orange pâle. Au bout de ce cheminement, vous arrivez au Signal de Sauvabelin.
Practical information

Start: "Lac de Sauvabelin" stop of bus no. 16
Finish: "Grancy" metro station on the m2 line or the CFF railway station

From the bus stop, follow the wooden arrows marking the way so as to reach the tower in 5 minutes. 5 mins. (+10 mins. for the trip to the top of the tower and back).
Town

Lausanne
Distance

6 km
Duration

1h45
Difference in height

276 m
Difficulty

Easy
| 0 km | | | | | | | | | | | | | | | | | | | | | | 6 km |
| --- | --- | --- | --- | --- | --- | --- | --- | --- | --- | --- | --- | --- | --- | --- | --- | --- | --- | --- | --- | --- | --- | --- |
| 669 | 643 | 638 | 595 | 587 | 581 | 529 | 533 | 537 | 525 | 494 | 489 | 483 | 493 | 488 | 481 | 477 | 469 | 464 | 464 | 439 | 424 | 414 |